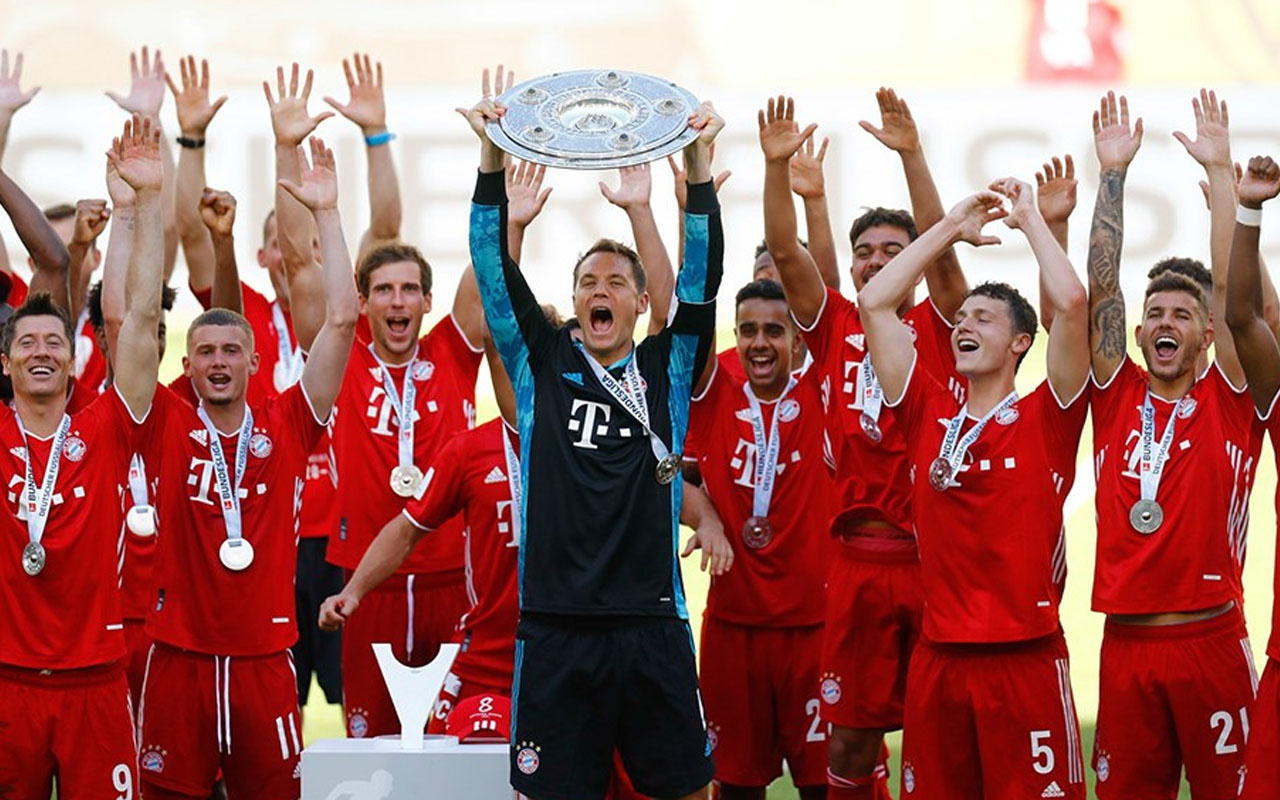 We take an in-depth look at the top clubs for the Bundesliga this season. Who will emerge victorious?
FC Bayern Munich
Perhaps the league is all but won by Bayern Munich even before the competition starts! The Bavarian Giants have always dominated the Bundesliga but in recent years they've taken that domination to a whole other level. Bayern Munich are simply in a league of their own and no one seems to even touch them in the league even when they have a relatively bad season.
However, the 2021/2022 season holds a lot of uncertainty for Bayern Munich. A new coach, some new players, and a stronger Bundesliga could cause big problems for the Bavarians.
That said, with so many possibilities for how Julian Nagelsmann will align his squad and who will fill those positions, the squad is packed with options. Bayern Munich possess an embarrassment of riches in all areas of the pitch.
PLAYER TO WATCH
Even when compared to his older, more heralded teammates, Jamal Musiala has shown a dynamic presence and ability on the pitch. What's more, his performances have been very consistent
If Musiala can get enough playing time to establish himself, the youngster could show enough quality to convince manager Julian Nagelsmann to give him a regular role in the squad.
Each of the four Bayern wingers are excellent dribblers with good creative ability, but Musiala seems to have the best vision of the quartet, and he might already be as dangerous a scoring threat as Serge Gnabry.
Red Bull Leipzig
RB Leipzig finished in second place last season. This term they have added a new Portuguese striker in Andre Silva and new head coach, American Jesse Marsch takes over at the Red Bull Arena in 2021/22.
Leipzig reached the final of the DFB Cup last season. Both feats of finishing second in the Bundesliga and reaching the domestic cup final were achieved for only the second time in RB Leipzig's short history. Under then-manager Julian Nagelsmann they were breathing down Bayern Munich's necks for most of the season and had only lost three times prior to Matchday 27 when a narrow 1-0 to the eventual champions left them an ultimately unsurmountable seven points behind. The gap, in the end, was 13 as Leipzig claimed the runners-up spot for the first time since their maiden top-flight campaign.
Nagelsmann also guided the team in his second season in charge to the cup final, where they missed out on what would have been their first silverware against Borussia Dortmund. In Europe, the 2019/20 UEFA Champions League semi-finalists got wins over Paris Saint-Germain, Manchester United, and Istanbul Basaksehir to qualify again from the group before elimination at the hands of Liverpool in the last 16.
RB Leipzig are a team that have the ability and potential for the kind of consistency required to trouble Bayern Munich at the top of the table, it will be interesting to see if their continued improvement continues this season.
PLAYER TO WATCH
The club have looked to put a lack of goals right by signing Andre Silva from Eintracht Frankfurt. He scored a new club record of 28 goals in the Bundesliga last season, which was one more than Erling Haaland netted for Dortmund and second only to Robert Lewandowski's amazing 41! The 25-year-old Portugal international should provide a real boost to RB Leipzig this season, as for all their good form, RB looked slightly impotent in front of goal at times last season.
Borussia Dortmund
Dortmund finally have their desired trainer in Marco Rose. They had been courting the 44-year-old for quite a long time. Rose is ideally the man who can lead the BVB back to glory. Just to be on the safe side, Acki Watzke and the rest of the bosses made sure to move popular interim coach Edin Turzic off the sidelines and into the front office. The club finds itself in no mood to risk fans calling for Terzic's reinstatement. Rose will get plenty of time and space.
Time and space look to be crucial for the new boss as few can make heads or tails of his preferred set-up after watching the pre-season friendlies. It's very possible that Rose stands nowhere near his go-to system. Some of this has to do with the fact that several key players are out and more keep having to withdraw with injuries seemingly every match. Despite his potential for last-minute managerial 'tweaks', Rose remains something of a straightforward 4-2-3-1 "double six" man. However, It seems almost certain that we won't see that here with Borussia Dortmund.
Dortmund finished in third place last season. Such a big club will be looking at least to maintain that position again, but Rose will be hoping for more of that from his charges and maybe that's possible!
PLAYER TO WATCH
Star striker Erling Haaland will be vital to any hopes that Dortmund have of mounting a serious title challenge next season. Haaland ended the 2019/20 season with 41 goals in all competitions, including 27 in the league, which won him the fan-voted Bundesliga 'Player of the Season award.' He also finished the season as the top scorer in the Champions League with ten goals!