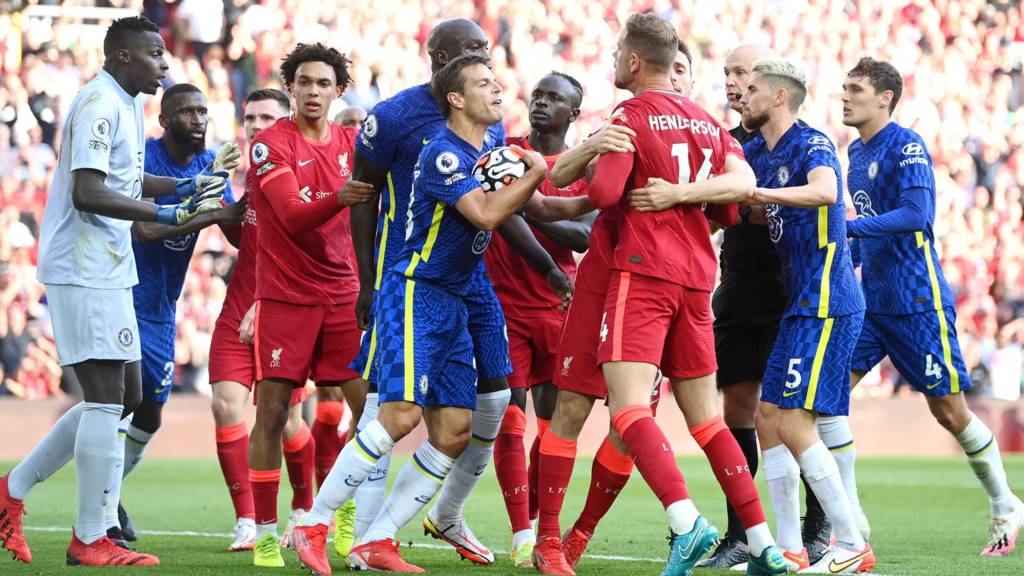 Chelsea held Liverpool to a point, despite the sending off of Reece James in a controversial decision by referee Anthony Taylor.
Chelsea held Liverpool to a point on Saturday, despite the sending off of Reece James just before halftime.
The Blues started in top form, with Kai Havertz scoring a wonder goal off Reece James's corner, in the 21st minute. From the first minute, Chelsea were organised, threatening, and concentrated. It seemed they were destined for more goals, but that was before a decision by referee Anthony Taylor that changed the game markedly.
In the 46th minute, Liverpool had a chance on goal, with Andrew Robertson's corner being flicked to the back post by Mane, before landing on James's thigh and then brushing his arm. The decision went to VAR, and with Anthony Taylor inspecting the incident himself, he ruled it as an intentional handball, sealing James's fate and sending him off, while also handing Liverpool a penalty. In the ensuing chaos Chelsea keeper Édouard Mendy and midfielder Mateo Kovačić also picked up yellow cards for dissent.
After Mohammad Salah's easy penalty conversion, it was 1-1, and with Chelsea being down to 10 men, it seemed like the game was sealed for the boys from Merseyside. At the start of the second half the Reds came out in full force, pushing Chelsea to their limits. However, a second goal eluded Liverpool, with Thomas Tuchel's side demonstrating defensive composure, organisation, and confidence. As the 90th minute approached, Anfield grew increasingly tense, with fans coming to terms with the fact they might lose two points, at home, to a 10-man Chelsea.
In the end, Chelsea held on, with Mendy saving six shots on goal, his most in any appearance since signing for the Blues. If Chelsea were not considered serious contenders to the Premier League title before this, they now certainly are – coming away from this match with confidence before the international break.