Italy's Serie A has many famous rivalries on the pitch. In Part one of our two-part series, we look at some of the biggest!
Derby d'Italia: Inter Milan v Juventus
Juventus enjoy fierce rivalries with many different clubs in Serie A, not just their bitter local foes Torino FC. The rivalry between Inter and Juventus came about as it usually decides which of these two powerhouses of Italian football is the best in the country. Last season it was Inter that interrupted Juventus's incredible nine-year run of Serie A titles. However, in the last Derby d'Italia, it was Juventus that overcame Inter in Turin 3-2, courtesy of goals from Cristiano Ronaldo, Juan Cuadrado, and Rodrigo Betancur.
Derby della Madonnina: AC Milan v Inter Milan
The only grudge match in European soccer between two clubs from the same city who have both won the UEFA Champions League is the Milan derby. Both AC Milan and Inter are top teams in Serie A and the latter are defending champions this season, whilst AC Milan finished last season in second. For AC Milan, this season also marks their return to the Champions League after 7 seasons in which they didn't qualify for Europe's top competition.
With Zlatan Ibrahimovic leading the attacking line for Milan and Lautaro Martinez stepping up now that Romelu Lukaku has left for Chelsea, there are plenty of superstar names who will continue to illuminate this rivalry. The Derby della Madonnina takes place at the shared San Siro and in the last game, Inter won easily, 3-0. On the scoresheet that day were Lautaro Martinez, who bagged a brace and Romelu Lukaku, who chipped in with one goal.
Derby della Capitale: SS Lazio v AS Roma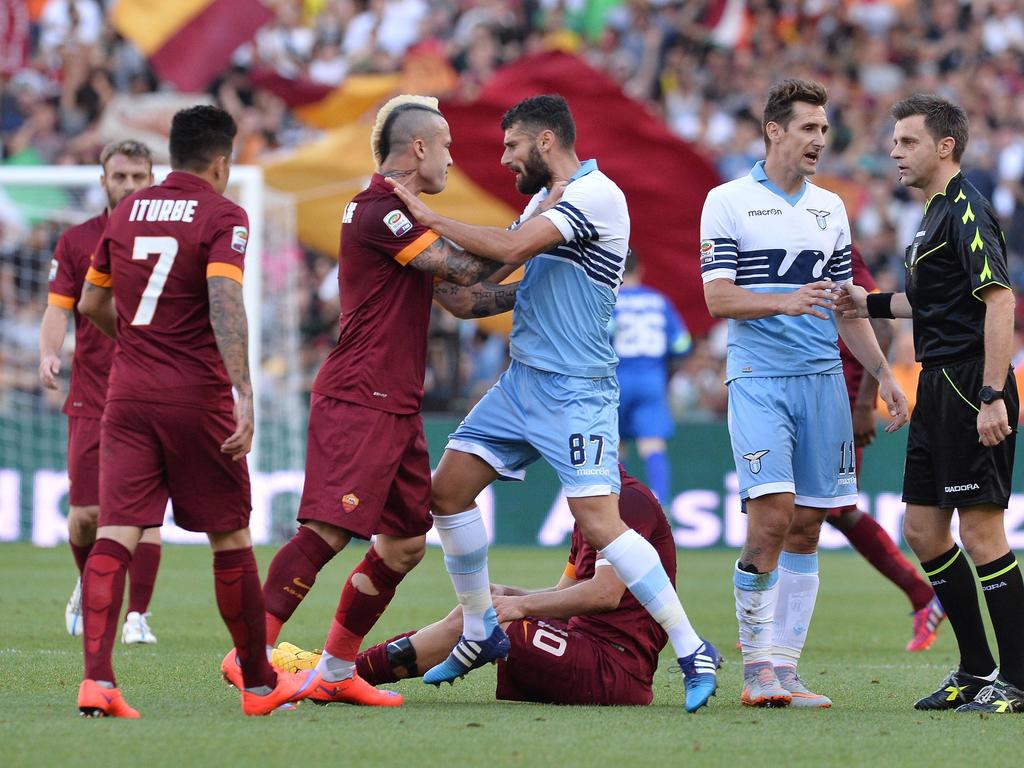 The Rome derby is the capital city grudge match and while neither side is a consistent title contender these days, they are both still fairly big clubs in the context of domestic competition and regular contenders for Champions League spots. With Maurizio Sarri coaching Lazio and Jose Mourinho in charge of Roma this season, sparks are bound to fly in the Stadio Olimpico, which is shared between the two clubs. In the last match between these bitter rivals, Roma beat Lazio 2-0, with goals from Henrikh Mkhitaryan and Pedro.
Derby dell'Appennino: Bologna FC 1909 v ACF Fiorentina
The Apennine Mountains between these two cities created this rivalry and they give it its name. Although it is largely a mid-table battle these days, it is still packed with colour, noise, and atmosphere. Fans of a certain age will be familiar with Fiorentina and their eye-catching violet kits. Despite recent struggles, however, Fiorentina have long been known for more than their famous shirts.
They once enjoyed a golden era in the 1990s that saw them boast world-class talents like legendary Argentinian striker Gabriel Batistuta and tricky Portuguese playmaker Rui Costa. The most recent clash ended in a 3-3 draw, with Rodrigo Palacio netting a hat-trick for Bologna. Dušan Vlahović's two goals and one from Giacomo Bonaventura ensured that the scores were level at full time.
Derby della Mole: Juventus vs. Torino FC
Probably one of the most unequal city rivalries in the modern era is the Turin derby which is often won by the dominant Juventus. For a while, these clubs even shared a stadium which added to the animosity, but it often feels as if Juventus have more important and telling rivalries within their other domestic matches. That said, the last time these two clubs met, Torino held their more illustrious neighbours 2-2, with a double strike from Antonio Sanabria cancelling out goals from Cristiano Ronaldo and Federico Chiesa.